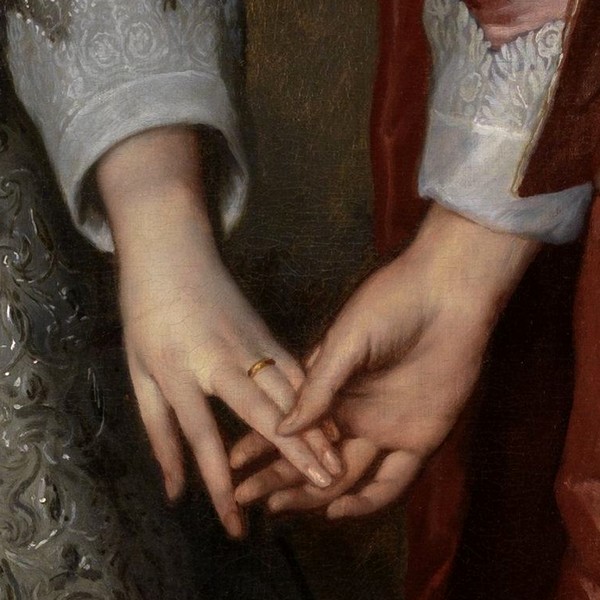 Guillem II, príncep d'Orange, i la seva promesa, Maria Stuard (fragment) - A. van Dick
El lied s'estima els boscos, les prades, les muntanyes, els rierols, la nit, la lluna, els estels. El lied s'estima, gairebé per damunt de totes les coses, caminar. El lied s'estima tot això que ara ens sembla un luxe inabastable. Estem confinats i ho estem amb la nevera plena i tots els subministraments que funcionen, sobreinformant-nos compulsivament a través de les nostres pantalles. Fins i tot en els pitjors moments som gent privilegiada del primer món.
Tot i les comoditats materials que gaudim (uns més que d'altres, és cert), vivim inevitablement angoixats. Amb por d'encomanar-nos, amb por d'encomanar. Amoïnats per les persones més vulnerables del nostre entorn mentre arriben les xifres esgarrifoses de morts, no un degoteig sinó un doll. Indignats per la incompetència i la irresponsabilitat dels qui haurien de prendre mesures per frenar el nombre de contagis i no ho fan. Tement les conseqüències econòmiques d'aquest desastre. Sense saber quant durarà el confinament, però sospitant que serà llarg. Renunciant a plans fets amb molta il·lusió i a projectes en els quals havíem treballat molt. Alguns sols, altres en un pis atapeït. Uns mirant de fer feina des de casa, d'altres forçosament aturats, molts treballant perquè els serveis essencials no s'aturin. Agraïts a la generositat de molts i al bon humor (malgrat tot) de la majoria i mirant d'ignorar la mesquinesa d'uns quants.
En aquest temps d'incertesa, quina cançó podia compartir amb vosaltres? Primer vaig pensar que n'hi ha, poques, que ens parlen des de la seguretat de la llar o contemplen el món a través de la finestra. Les primeres que se'm van acudir ja les havíem escoltat; són Der Einsame, Im Abendrot i Am Fenster, totes tres de Schubert. Ja m'havia decidit per una quarta quan vaig pensar en una de les coses més estranyes i més difícils a què ens força la Covid-19: no ens podem tocar. No fem petons als pares ni festes als nebots, no abracem als amics, la polícia crida l'atenció a les parelles que van pel carrer agafades de la mà. Quan més ens cal ni que sigui un petit gest afectuós, no podem fer-lo. I llavors vaig recordar una petita cançó de Frank Bridge: Thy hand in mine [La teva mà en la meva].
A diferència de contemporanis com Vaughan Williams, Quilter o Butterworth, Bridge es va dedicar sobretot a la música instrumental i va parar poca atenció a les cançons. En va escriure una cinquantena, la majoria entre 1901 i 1908, abans de fer els trenta. Després d'això va haver-hi un silenci fins al 1912; entre aquest any i el 1925 que va escriure'n l'última hi ha una quinzena més. Ja veieu que és una producció molt irregular a més de minsa, i és una llàstima perquè hi trobem petites joies.
El 1914 va escriure només dues cançons, i la següent no va arribar fins al 1917, l'única d'aquell any. Totes tres són també les úniques amb poemes de Mary Elizabeth Coleridge, una poeta victoriana a qui ja vam mencionar fa un temps arran d'una cançó de Hubert Parry. Coleridge va ser coneguda en vida com a novel·lista, va arribar a publicar cinc novel·les que va signar amagant el seu nom de dona darrera de les inicials. També va publicar dos poemaris, aquests amb pseudònim. Deia que no volia tacar el nom de la família; ser descendent de Samuel Coleridge, un dels pares del Romanticisme anglès, era una càrrega que la neguitejava. Els tiratges d'aquests dos llibrets van ser molt curts i tot així la major part dels exemplars no es va vendre. Això no va desanimar l'editor Henry Newbolt, que poc després de la mort de l'escriptora el 1907 va publicar-ne una antologia que incloïa els poemes ja publicats i una àmplia selecció d'inèdits. La col·lecció va ser un èxit, tant que en un mes se'n van fer quatre reimpressions; el prestigi que Coleridge tenia com a novel·lista va fer que els seus lectors s'interessessin també per la seva poesia.
Bridge va triar els poemes per a les seves tres cançons d'aquesta antologia; el n. 202, titulat senzillament Song, comença amb les paraules Thy hand in mine i parla amb senzillesa i brevetat de fer camí agafats de la mà. La cançó de Bridge és refinada i subtil, petita i íntima, emotiva en la seva aparent senzillesa, tendra en la versió de Simon Keenlyside i Malcolm Martineau que us proposo d'escoltar.
Mirem de passar tots de la millor manera possible el temps que resti fins que puguem tornar a fer un gest tan senzill com agafar-nos de les mans. Cuideu-vos!
Thy hand in mine
Thy hand in mine,
And through the world we two will go,
With love before us as a sign,
Our faces set to ev'ry foe.
My heart in thine,
Through life, through happy death the same,
We two will kneel before the shrine,
And keep alight the sacred flame.
La teva mà en la meva,
i afrontarem el món tots dos,
amb l'amor davant nostre com a estendard,
els nostres rostres determinats davant els enemics.
El meu cor en el teu,
afrontarem la vida, i també la mort feliç,
ens agenollarem davant el santuari
i mantindrem encesa la flama sagrada.
Articles relacionats