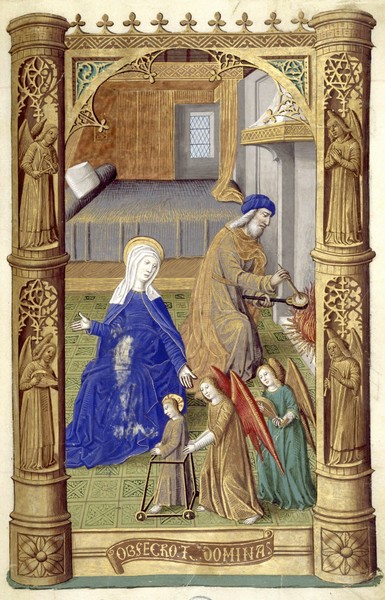 Llibre d'hores de Carles VIII. Nativitat - J. de Bensançon
La setmana passada escoltàvem I wonder as I wander, una cançó tradicional arranjada per Benjamin Britten entorn el 1940, i us deia que no la va editar ni enregistrar. Us deia també que aquesta setmana us n'explicaria el motiu, i aquí el teniu: no es podia fer "oficial" perquè en realitat la cançó que havia arranjat no era tradicional, sinó que l'havia compost John Jacob Niles el 1933, basant-se, això sí, en una cançó tradicional. No era, per tant, una obra de domini públic, com es pensava Britten.
Niles va ser una de les persones més influents en la revalorització de la música folk als Estats Units durant la segona meitat del segle XX. Abans de la Primera Guerra Mundial ja es dedicava a recol·lectar cançons, tot aprofitant la seva feina de viatjant; un cop acabada la guerra va completar la seva formació musical i amb el temps es va donar a conèixer com a cantant. La història d'I wonder as I wander la va explicar ell mateix. Va sentir la cançó per primer cop a Murphy, una localitat de Carolina del Nord, el juliol de 1933, cantada per una noieta anomenada Anne Morgan. De fet, l'Anne només li'n va cantar uns versos; després de fer-li repetir fins a vuit vegades per intentar escoltar-la completa, tenia apuntades a la llibreta "només tres línies de text, un fragment confús de material melòdic i una idea magnífica". Va ser a partir d'aquells apunts que va escriure la cançó, publicada l'any següent en el recull Songs of the Hill-Folk. Twelve ballads from Kentucky, Virginia and North Carolina, i la va popularitzar ell mateix amb les seves interpretacions.
A la coberta de la publicació, el volum 14 de la sèrie American Folk-Songs editada per Schirmer, hi diu "recollides i senzillament arranjades amb acompanyament de piano per John Jacob Niles"; desconec si en algun lloc a l'interior s'especificava que almenys una de les cançons, I wonder as I wander, era original de Niles. En una edició posterior, de 1944, la cançó hi figura com "adaptada i arranjada per John Jacob Niles i Lewis Henry Horton". No he trobat cap enregistrament d'aquesta versió original per a veu i piano i he pensat que, aprofitant que us agafaré desprevinguts entre festa i festa, podia fer una excepció i compartir una interpretació que s'escapa de l'àmbit de Liederabend: escoltarem I wonder as I wander cantada per Niles, en un enregistrament de 1957. S'acompanya ell mateix amb un dulcimer, un instrument de corda habitual en el folklore de diverses zones d'Europa que té una variant als Estats Units, el dulcimer dels Apalatxes.
La setmana vinent tancarem aquest article en tres parts amb una versió novament ortodoxa d'I wonder as I wander. De moment, acomiadem el 2020. Ha estat un any tan dolent que més que mai us desitjo que l'any que comença sigui millor.
I wonder as I wander
I wonder as I wander out under the sky,
How Jesus our Saviour did come for to die.
For poor or'n'ry people like you and like I,
I wonder as I wander out under the sky.
When Mary birthed Jesus 'twas in a cow stall,
With wise men and shepherds and farmers and all.
On high from God's heaven the star's light did fall,
And the promise of the ages it did then recall.
If Jesus had wanted for any wee thing,
A star in the sky, or a bird on the wing;
Or all of God's angels in heav'n for to sing,
He surely could've had it for he was the King!
Em demano tot vagant sota el cel
com Jesús, el nostre Salvador, va venir per morir
per gent normal com tu i com jo,
m'ho demano tot vagant sota el cel.
Quan Maria infantà Jesús, va ser en un estable,
amb els Reis d'Orient i pastors i grangers i tots.
De dalt del cel de Déu caigué la llum de l'estel,
i llavors es recordà la prometença de l'Antic Testament.
Si Jesús hagués volgut qualsevol cosa petita,
un estel al cel, o un ocell volant,
o tots els àngels de Déu cantant al Paradís,
segurament ho hauria pogut tenir perquè era el Rei!
Articles relacionats