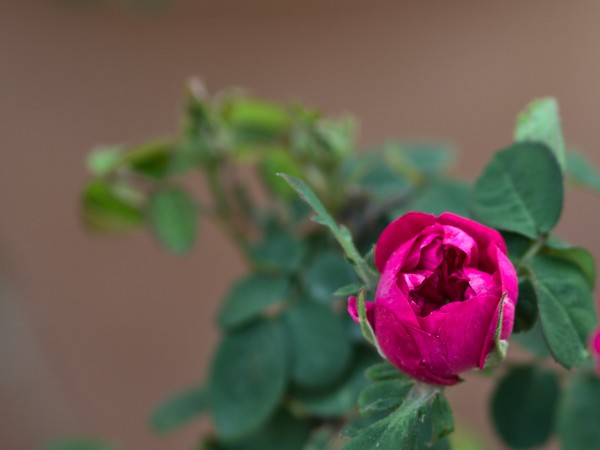 títol quadre
Fa uns dies, quan enllestia l'article de la setmana passada sobre Red Roses and Red Noses vaig llegir un detall sobre la cançó que m'havia passat per alt fins llavors. Al quadernet del disc "My Garden" (del qual vaig extreure la interpretació que vaig compartir), Richard Stokes deia que la cançó de Lord Berners era clarament una paròdia de la cançó de Thomas Moore The Last Rose of Summer [L'última rosa de l'estiu]. Vaig pensar a fer-hi una referència ràpida en aquell article, però després m'hi vaig rumiar: per què no dedicar-hi l'article d'aquesta setmana?
Hem parlat en diverses ocasions de George Thomson, l'editor musical escocès que a finals del segle XVIII va començar a publicar arranjaments de cançons tradicionals. Thomson coneixia molt bé el seu negoci, i va encertar-la de ple triant tant els músics que farien les harmonitzacions (Haydn i Beethoven entre ells) com els poetes que havien d'escriure els textos que substituirien els originals, que no es consideraven prou refinats (Robert Bruns o Walter Scott, per exemple). Aquesta pràctica avui faria que musicòlegs i etnògrafs es posessin les mans al cap, però la qüestió és que gràcies a Thomson i altres editors que el van imitar s'han conservat un munt de cançons que d'una altra manera potser s'haurien perdut.
Sembla que Thomson va intentar fitxar Thomas Moore com a autor fix, però el poeta irlandès va refusar la invitació. S'han donat diversos motius per a aquest refús; es diu que Moore opinava que Burns, molt amic de Thomson, es plegava massa sovint als suggeriments de l'editor per fer els seus poemes més del gust del públic, i ell no estava disposat a fer-ho. Es diu, també, que les condicions econòmiques no el satisfeien (i sabem per altres autors que Thomson pagava molt bé). I, finalment, sembla que Moore desitjava fer per la música irlandesa el que havia fet Robert Burns per l'escocesa, però volia fer-ho a la seva manera.
Moore va treballar amb els editors irlandesos William i James Power, que entre 1808 i 1834 van publicar els deu volums de les Irish Melodies (per ser precisos, a partir del 1821, només sortia el nom de James com a editor), tots ells amb poemes de Thomas Moore substituint el text original. Pel que fa a les melodies, la majoria les havia recollit Edward Bunting, un músic pioner en la recuperació del folklore irlandès, que va fer una feina molt rigorosa. Les harmonitzacions eren primer de John Stevenson i després, als tres últims volums, de Henry R. Bishop. Les Irish Melodies, cent vint-i-quatre peces en total, van tenir un èxit enorme; el públic frisava per tenir a les mans un nou volum. De fet, és l'obra que més fama va donar a Moore; les seves cançons (fixeu-vos que els noms dels compositors eren negligits sistemàticament) van proporcionar-li també uns guanys enormes, que no van evitar que el poeta, que tenia un forat a la mà, estigués sempre endeutat.
De totes les Irish Melodies, la més famosa, si més no fora d'Irlanda, és The Last Rose of Summer, publicada el 1813 al volum núm. 5, que parteix de la cançó tradicional irlandesa Aisling an Óigfhear, o The Young Man's Dream, i se sap exactament quan, on i perquè Moore va escriure el poema. Va ser el 1805, durant una estada a una propietat anomenada Jacksontown House, a Kilkenny, al sudest d'Irlanda. Li va cridar l'atenció una rosa de la varietat "Old Blush", que avui és molt popular i es troba amb molta facilitat, però que llavors feia tot just deu anys que s'havia introduït al Regne Unit. És un roser amb una floració molt llarga, amb roses no gaire grans, semidobles i amb molta olor, que creixen en petits raïms. Quan les poncelles s'obren són de color rosa, però es van enfosquint a mesura que avancen els dies, un detall que Moore no passa per alt al seu poema, un poema en el qual parla (als vint-i-sis anys!) del trist destí que és envellir tot sol, quan totes les persones que has estimat ja han marxat. D'aquí la resposta/paròdia de Lord Berners, una alegre invitació a beure i a no pensar en la mort.
S'han fet un munt de versions de The Last Rose of Summer, en un munt d'estils musicals. En mencionaré unes quantes, centrant-me només en l'àmbit clàssic. Per començar tenim la de Beethoven, un dels arranjaments per a veu, piano, violí i voloncel encarregats per Thomson; no parteix del poema de Moore, perquè Thomson no el podia fer servir, sinó que parteix del poema de William Smyth; trobareu la cançó amb el títol Sad and Luckless was the Season i val la pena escoltar-la perquè és realment maca. Entorn 1827, Felix Mendelssohn va escriue la seva Fantasia sobre "The Last Rose of Summer", per a piano, i això ens diu que la peça de Thomas Moore es difonia ràpidament. Tant, que el 1847, Friedrich von Flotow la va incloure amb el títol Letze Rose a la seva òpera Martha, com una cançó tradicional (i ja sabem que sí, però no). Si seguim avançant en el temps, trobem que Charles Gounod, que va ser a Londres durant la temporada 1871-72 i va dirigir en diverses ocasions el cor del Royal Albert Hall, va compondre o arranjar diverses peces per a l'ocasió, entre elles, és clar, The Last Rose of Summer. Una altra versió per a piano sol, un cànon per a quatre veus compost el 1903 li devem a Max Reger, i, per acabar, arribem a Benjamin Britten.
Britten va publicar sis quaderns d'arranjaments de cançons tradicionals, seixanta-una cançons en total. El volum núm. 4, del 1958, està dedicat a les Irish Melodies de Moore, i la penúltima cançó, la novena, és The Last Rose of Summer. És una versió que m'agrada molt, entre altres coses, perquè li treu una mica de dolçor a la cançó (ja sabeu que el dolç m'embafa de seguida). I m'agrada molt, i em sembla molt emocionant, la versió que escoltarem, amb el mateix Britten al piano i el tenor Peter Pears.
Ja veieu, aquest any les roses de Sant Jordi han durat més del que és habitual. I els rosers tot just comencen a florir, gaudim de l'espectacle!
The last rose of summer
'Tis the last rose of summer,
Left blooming alone;
All her lovely companions
Are faded and gone;
No flower of her kindred,
No rosebud is nigh,
To reflect back her blushes,
Or give sigh for sigh.
I'll not leave thee, thou lone one!
To pine on the stem;
Since the lovely are sleeping,
Go, sleep thou with them.
Thus kindly I scatter,
Thy leaves o'er the bed,
Where thy mates of the garden
Lie scentless and dead.
So soon may I follow,
When friendships decay,
And from Love's shining circle
The gems drop away.
When true hearts lie withered,
And fond ones are flown,
Oh! who would inhabit
This bleak world alone?
És l'última rosa de l'estiu,
que roman florint tota sola;
totes les seves delitoses companyes
s'han marcit i han marxat.
Cap flor de la seva nissaga,
cap ponzella és a prop
per reflectir la seva vermellor
o tornar-li sospir per sospir.
No deixaré que tu, solitària
t'esllangueixis a la tija;
si les encisadores s'han adormit,
vés i dorm amb elles.
Llavors jo espargiré suaument
els teus pètals pel terra
on les teves companyes del jardí
jeuen sense aroma i mortes.
Que jo pugui seguir-te aviat,
quan les amistats declinin,
i del brillant cercle de l'Amor
se'n desprenguin les gemes.
Quan els cors sincers jeguin marcits,
i els més estimats hagin partit,
oh, qui voldria viure
en aquest món ombrívol tot sol?
Articles relacionats