Back to normal after three Christmas posts with a guest post by Isabel Villagar. Isabel is singing teacher and author of the blog La brújula del canto, and gives us some guidelines on how to initiate students into song singing. Thanks, Isabel!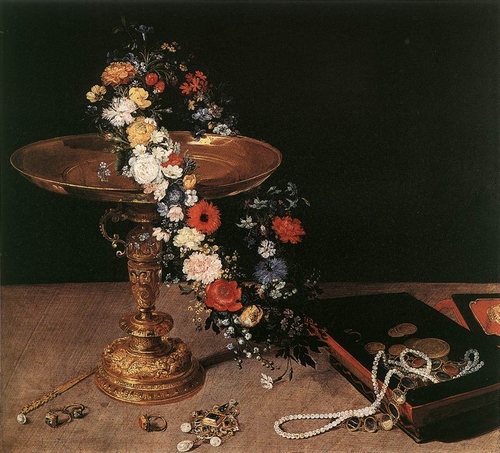 Still-life with garland of flowers and golden tazza - Brueghel the Elder
Singing teachers in undergraduate music education have the challenge of introducing students to the world of Lied (German word and therefore, as a noun, is capitalised) and song in other languages than the mother from the first year, first in Italian, then German and finally in French.
Singing in Spanish or another native language (Catalan, Basque, Galician ...) and English should be the starting point for students to understand the principles of articulation and diction in singing voice so that they can then associate and extrapolate phonemes and types of vowels into other languages.
Students must learn to love other languages and, for this, we must open the mind and heart to the wealth that other cultures have to offer. You could say it is like teaching them to value a chest full of treasures. At first, only they see the chest but we explain to them that is full of fantasy, many secrets, many stories and everything is written in code, that is, in another language.
Today it is not always easy to make students love a different language, learn to value their onomatopoeic sounds as with the German which often is almost self-referential language, the singsong cadence of the Italian or the mellowness and nasality of the French.
First, teachers should make a selection of reference by language repertoire, masterpieces by established performers (in this blog you have many examples) to become accustomed to the sound of the language and increase their capacity to auditory discrimination. So the first thing is to listen a lot and very good music.
On the other hand, it is advisable to help students learn the vocabulary for semantic fields that are recurring in poems: nature, feelings, travel, weather, etc ... and it usually helpful visual dictionaries those who come together to the same object, the noun in different languages. A related activity could be looking for Lieder that made reference to some of them: nature, animals, crafts, etc ... of the same o several composers.
For pronunciation of the poems he has the invaluable help of language teachers, true specialists who will guide the process of learning the language but mostly teach international phonetic rules (IPA).
Knowing the context and the author of the works is essential, so an interesting activity would be able to work different Lieder by the same author in a group in a semester. This will help students to work the musical composer writing style at the time and allow them to learn more repertoire than they sing.
For example, you could spend a semester to Schubert Lieder (scores can be downloaded from
this link
) and listen for any of the performers may be referred to as Fischer-Dieskau, Fritz Wunderlich, Edith Mathis, Elly Ameling, Edith Wiens, etc.
Another activity related to the above would be to audition compared to the same Lied to analyse how to resolve technical difficulties several performers, how they tell the story, etc. For example,
An Silvia
performed by Wunderlich, Fischer-Dieskau,
Edith Wiens
o
Elly Ameling
.
Some of Schubert Lieder suitable for beginners are:
Heidenröslein
,
Erster Verlust
,
Frülingsglaube
,
An der Mond
,
Lachen und Weinen
,
Nur wer die Sehnsucht kennt (Mignon)
,
An die Musik
,
An Sylvia
,
Die Forelle
,
Abschied
,
Im Abendrot
, etc.
Another key activity is to make a collective lesson in which all pupils, the singing teacher, piano accompanist and languages teacher are present. In this lesson, students can share the work. The students can say the poem, explain what it is about and then sing it. Besides working skills of acting against the public, all students will have a global vision of the author.
Isabel Villagar Bachelor Music Pedagogy (Singing) with Prize Author
Isabel suggests us to listen to different versions of
An Silvia
; I talked about that song in
this post
, where the singer was Fritz Wunderlich, they're in this post links to Wiens and Ameling's versions and to illustrate this post we're listening Fischer-Dieskau, accompanied by Gerald Moore.
An Silvia

Was ist Silvia, saget an,
Daß sie die weite Flur preist?
Schön und zart seh ich sie nah'n,
Auf Himmelsgunst und Spur weist,
Daß ihr alles untertan.
Ist sie schön und gut dazu?
Reiz labt wie milde Kindheit;
Ihrem Aug' eilt Amor zu,
Dort heilt er seine Blindheit
Und verweilt in süßer Ruh.
Darum Silvia, tön, o Sang,
Der holden Silvia Ehren;
Jeden Reiz besiegt sie lang,
Den Erde kann gewähren:
Kränze ihr und Saitenklang!
Who is Silvia? what is she,
That all our swains commend her?
Holy, fair and wise is she;
The heavens such grace did lend her,
That she might admirèd be.
Is she kind as she is fair?
For beauty lives with kindness.
Love doth to her eyes repair,
To help him of his blindness,
And, being helped, inhabits there.
Then to Silvia, let us sing,
That Silvia is excelling;
She excels each mortal thing
Upon the dull earth dwelling;
To her let us garlands bring.